Practical test for fork truck operators revised April 2000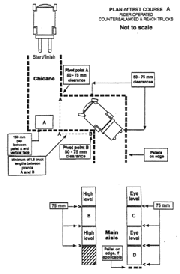 Pictured left is the test course for Fork Lift Operators which was revised in April 3rd 2000. This test has been validated by the Joint Industry Council and is approved by the RTITB for all reach and counterbalanced fork lift training purposes.
It should be noted that this test should be in use by all accredited bodies and is recognized as the definitive test by the Health and Safety Commission. The test now comprises three parts, all of which must be taken and passed before a certificate of basic training can be given. It is often wrongly assumed that once a person has passed this test s/he is entitled to a fork lift truck operators' "licence". In fact there is no such thing! The passing of this test merely indicates that a person has been on an approved training course and has demonstrated the necessary skills needed to operate a fork lift safely.
It is also important to note that training is not complete until all three stages of training as defined by the . These are:
Basic training - passing the test described on this page.
Specific job training - defined as knowledge of the workplace and any special handling attachments.
Familiarisation training which can be done "on the job" under close supervision .
Please note that there are two versions of this test which allow for the fact that some test courses cannot be set up with loads on both sides of the main aisle. The main aisle dimensions are now different for reach trucks to reflect their greater manoeuvrability.
The practical test shown above requires the candidate to drive forwards and reverse through the chicane twice instead of just once as previously.
The candidates are now expected to pass a written question paper and achieve a minimum score of 80%. Five of these questions are "open" instead of the usual multi-choice.
Trainees are also examined on their ability to complete pre-use checks as part of the test.
Trainees should be aware that the marking sheet associated with the practical test has been revised so that some faults score higher than before. The common aim behind this test is to improve driving and safety standards for everyone and it should be noted that, apart from cosmetic changes, the old test has been in use since 1972. Please Email or telephone us for more details.